President Trump is all-in for the Republican candidate in Pennsylvania's hotly contested congressional race — personally stumping this weekend for Rick Saccone as a stream of Trump-approved surrogates also enter and exit in an attempt to keep the seat Republican in Tuesday's vote.
Trump won battleground Pennsylvania in 2016 — snapping a nearly three-decade losing streak there for GOP presidential candidates –enroute to an upset White House victory in which he also won the Pittsburgh-area congressional district in which Saccone is running.
"I love this place," Trump bellowed Saturday night as took the stage for Saccone in suburban Pittsburgh. "Hello Pittsburgh. … I'm thrilled to be back in Pennsylvania. … Is there any more fun than being in a Trump rally?"
But Saccone, and Trump, are facing some challenging headwinds in 2018, compared to 2016 when Trump won the district by nearly 20 points.
The party controlling the White House loses about 30 House seats in midterm elections, which has energized a Democratic base eager to perhaps finally run Congress and some of the statehouses that Republicans have controlled for years.
They also face a fully-formed opponent in Democrat Conor Lamb — a telegenic Marine and former federal prosecutor who supports gun rights and Trump's tariffs on steel and aluminum, in the battle for the district's critical white, blue-collar worker.
The Pittsburgh Post-Gazette's editorial board on Sunday called Lamb an "impressive young man" with an "energetic campaign" but endorsed Saccone, a four-term state representative.
"Saccone … has a wealth of experience and an intimate knowledge of much of the district, because he has represented a part of it in the Legislature," the board said. "He is a good fit for the district and would be an effective representative for it from his first day on the job."
A Monmouth University poll released Monday shows Lamb leading for the first time in the race, 51 to 45 percent, just beyond the poll's 5.1 percent margin of error.
Trump also visited the state's 18th Congressional District in January. His son, Donald Trump Jr., was to campaign there Monday. In the past several weeks Vice President Mike Pence, Trump's daughter Ivanka and White House special counsel Kellyanne Conway have all visited the district, which stretches from the affluent Pittsburgh suburbs into deep Pennsylvania steel and coal country.
The 33-year-old Lamb and his campaign have clearly decided not to attack Trump, who remains popular in the region.
Former Vice President Joe Biden never mentioned Trump's name last week in back-to-back rallies for Lamb. But Trump, the state GOP party and outside money groups have relentlessly tried to tie Lamb to the Washington establishment — warning voters that he talks like a moderate but if elected will support top House Democrat Nancy Pelosi's liberal agenda.
"You can't have that," Trump said Saturday night. "Lamb the sham. He is trying to act like a Republican. He won't give me one vote … This is Trump country, right, so he has to say nice things. … Here's the problem. As soon as he gets in, he is not going to vote for us. He is going to vote the party line."
Val DiGiorgio, chairman of the Pennsylvania Republican Party, told Fox News: "They've tried to reinvent (Lamb) to run away from their message of higher taxes, sanctuary cities and socialism. But voters know that, at the end of the day, he's going to vote with the left-leaning leadership in Washington."
Trump critics argue the president is losing sway in elections, pointing out that he backed two losing GOP candidates last year in a special Senate race in conservative Alabama.
Trump, in turn, boasted at the Saccone rally Saturday about how he helped Republican Karen Handel win a special House election last year in the Atlanta suburbs, despite Democrats spending record-breaking millions on their candidate, Jon Ossoff.
"Karen was the one I wanted," Trump said. "And we came after him, I brought him down in a period of four days, I got no credit for this from these guys, brought him down."
He also fired off a tweet Sunday arguing he and the entire Republican Party last year kept five GOP-held House seats in special elections, saying "Hopefully, Rick Saccone will be another big win on Tuesday."
Republican campaign media strategist Rory McShane on Monday downplayed the idea that a Saccone loss will hurt Trump's campaign prowess.
"I don't think he has to win every state. You cannot look at every far-and-away congressional race and say this is yes-or-no about Trump," McShane said. "And a lot of Trump voters are disengaged from the political process. They'll show up to vote when Trump tells them."
Democrats will need to win a total of 24 House races in November to control the chamber.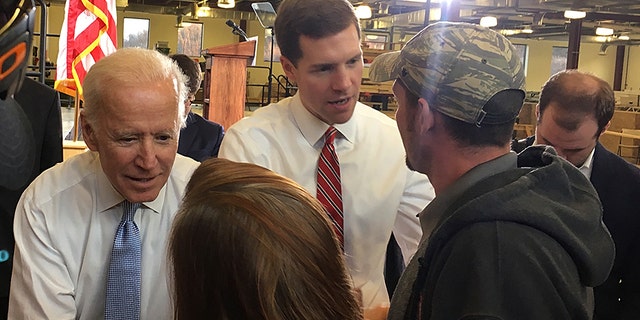 The race essentially dead-locking in the closing days and weeks has resulted in the outpouring of help from Trump, surrogates and others who are spending big money to bolster Saccone's get-out-the-vote efforts and attack Lamb on the airways.
Teams from the Koch brothers-backed Americans For Prosperity arrived in the region this past weekend to broaden the conservative outreach.
And the Republican National Committee has spent more than $1 million on its own operation that was expected to reach 250,000 targeted voters — either by phone or in person — by election day, said RNC spokesman Rick Gorka.
Overall, national groups allied with the GOP have spent nearly $8 million on advertising in the race, a figure that doesn't include logistical support on the ground and is more than seven times the amount invested by national Democratic allies unaffiliated with the Lamb campaign.